Testimonials
There is no other group to care for the trees on my property, including a 280 year old white oak tree. Ron Scruggs and his men are the best!
J.P. West Chester
The work done always meets my expectations or exceeds them. Ron is a gentleman and is patient when I have questions. He is happy to educate me about the trees and shrubs and I appreciate that!
D.M. West Chester
Amazing job fellas. Meticulous! It's nice to see some people still take pride in their work. Thanks so much. Please feel free to use us a reference.
M & C M. Downingtown
Very professional. Excellent workmanship. Will definitely refer you to others! You have my permission to use me as a reference.
T.B. Glenmoore
Ron is the only person I know who is more fastidious than I am! Great tree work!
F.M. Wayne
Thank you so much, Ron, for a beautiful job. Second great year in a row. Very happy and look forward to using you again next year. Please schedule me now for next April.
D.M. Chadds Ford
Thank you very much for your fine care of our trees. They all look beautiful now and they are much happier too! You did such a good job trimming them all. The dogwood is gorgeous this year. Thanks for all of your advice and additional information booklets and for your excellent service.
L.F. Exton
Good job! The trees look great!
R.D. Chester Springs
Superb as always!!!
D.P. West Chester
I like Ron's personal involvement in the job. He ensures that the job is done right!
T.M. Downingtown
Thanks again for the great job you did removing our trees. The yard looks great. We couldn't even tell you have been here except the trees are gone! I will be recommending you to our friends and we will call for future service.
C.F. Glenmoore
Good job as usual.
J.R. West Chester
Thanks for a great job, Ron. Let the crew know how much we appreciate their work.
B.B. West Chester
Very good work and clean up made the property look like there was no work done!
R.A. Malvern
Thanks, as always. You can always use us for a reference!
G M. Glenmoore
Great. Thank you.
S.S. Malvern
Thanks so much for your excellent work
E.M. West Chester
Work was done in a timely manner. Clean up was excellent. Workmen accommodating and nice.
K.F. West Chester
Great, great job. Clean up was great. It took us a day to realize you had been here.
K. D. West Chester
All of my neighbor's have commented on how nice the work looks. Would definately recommend your company!
G.M. West Chester
Great job - Efficient - Careful. Great clean up. Thanks!
G.F. West Chester
Thank you Ron for everything. We are very happy!
K&M.N. King of Prussia
Thank you, Ron, for a job well done.
C.K. Glen Mills
Ron, I wanted to feed you and the crew while you were here working, but we were not home. Sorry. Hope you and the guys enjoy this delivery of chocolate chip cookies to the shop.
The place looks great!
B&G West Chester
Thank you for always doing such a good job. The April date worked well. See you next spring, Ron.
D.M. Chadds Ford
Great job as always. You guys are awesome!
N.P. Guthriesville
Ron, You've been here twice and I wouldn't consider calling around when needing tree work again. You're great to worth with.
M.M. Coatesville
Scruggs Tree Service can always be called upon to do a superb job in any circumstance. They turned a tangle into a beautiful home site. Great job. Thanks.
B&JD Kennett
Thanks for being you, Ron!!
S.W. West Chester
Most professional and efficient contractor I have ever worked with. Thank you for a tremendous job.
R.D. Kennett Square
Great crew to work with that knows what they're doing. They had a great teacher.
D.S. West Chester
I'm very happy with all the work done. Ron is a gentlemen and works hard to educate his clients so that the outcome is satisfying and aesthetically pleasing without compromising tree health or inflating the expense.
D.M. West Chester
Best tree service we have ever used.
B.D. Kennett Square
Thank you so much! It is so wonderful to have someone working for you that you trust!
K.L. Downingtown
Best tree service we have ever used.
B.D. Kennett Square
Couldn't be happier with the work you've done. The Chinese Elm just looks fantastic. Thank you!
C.F. West Chester
Everything looks great! Thank you for the care you take in making the trees look beautiful again.
C.E. Downingtown
Always a pleasure because I have complete confidence in you.
M.K. West Chester
Best tree service anywhere!
B.D. Lionville
If you are unsure about your tree's health, Contact Us for a Property Inspection.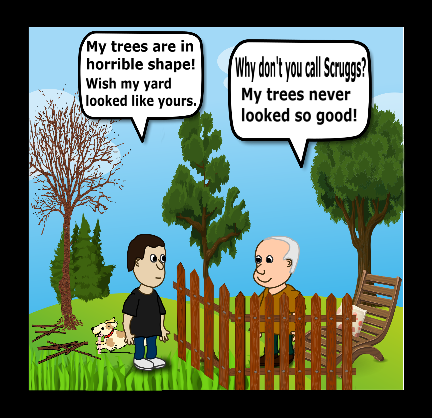 Why not?
Call Scruggs today. 610-458-1960


Return To Scruggs Tree Home Page
Services: Tree Pruning, Tree Removal, Spraying, Tree Diagnosis, Stump Grinding, Property Inspections, Cabling, Fertilization, Shrub Pruning, Lightning Protection, Shrub Removal, Preventive Maintenance Program, Land Clearing, Pre-construction Consultations, Firewood, Pre-purchase Consultations, Crane and Bucket Truck Service, Proactive Arboriculture.
Areas Serviced: Berwyn, Chadds Ford, Chester Springs, Downingtown, Elverson, Exton, Frazer, Glen Mills, Glenmoore, Honey Brook, Kennett Square, Lionville, Malvern, Morgantown, Newtown Square, Paoli, Phoenixville, Thorndale, West Chester, Westtown, as well as surrounding areas.